Pushing the Limits
Jun 26
So, coming up to race day (next Saturday) I'm challenging myself to reach a personal best speed.  So far, my personal best is 35 minutes and 21 seconds for a 5k.  It would be cool to get it down to 30 minutes, but that would be a 6 minute kilometer and today's pace was 7.22.  I have a ways to go!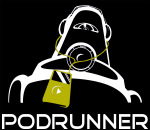 I've been using Podrunner's free walking mixes to set the pace.  They give me an hour of music that's a mix of house, progressive house, breakbeat, funk, tech house, pop remixes, downtempo, and  spoken-word poetry.  Some of it's pretty weird stuff, but most of is is just a great way to train endurance.  When you start walking for longer periods of time your pace tends to be all over the map.  This keeps you focused at a certain speed and it's pretty uplifting for the most part.  Podrunner is actually one of the most popular podcasts in the world.  Not a bad accomplishment!  They're just one of the many very useful tools in my walking toolkit
Happy Walking!
Darlene
PS: Now if any of you are math whizzes, I need you to calculate for me:  If walking at 139 beats per minute gives me a 7.22 minute kilometer, how many beats per minute do I need to walk to get a 6 minute kilometer?  I'd love you to post the answer below!  Thanks.